The Essentials

Insane Firefly 2016 Artists Lineup
Shelly
November 22nd, 2015
Some people may be disappointed with the fact that 2015 is drawing to a close, but EDM fans are everything but disappointed. We are looking forward to the new 2016 festival season. The good news is, it is going to be amazing! Lineups are already being announced. Top festivals, such as Ultra Music Festival or Electric Daisy Carnival,  are yet to announce their lineups. However, some of them already announced their stellar lineups.
One of them is Firefly Music Festival.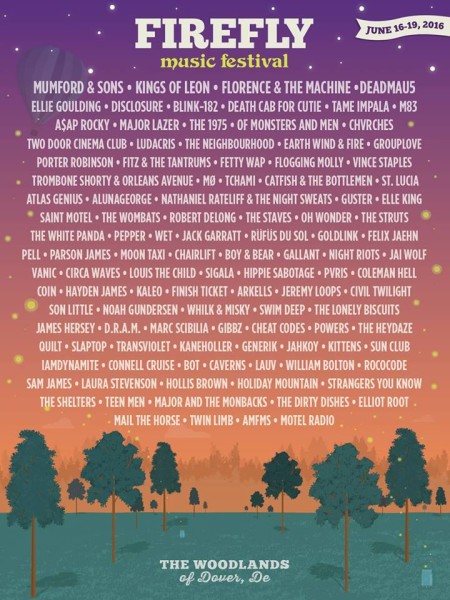 As you can see, the lineup features an absolutely insane array of artists. It is like all the amazing artists  from nearly every genre mankind has ever created are coming together. 2016 Firefly Music Festival will be bringing artists from everywhere!
As for some the electronic artists, Firefly Music Festival is bringing everyone, Deadmau5, Disclosure, Major Lazer and Porter Robinson to Dover, Delaware.ž
For those who are already convinced and have decided to visit the festival, check out the information about tickets.