The Essentials

Top DJs and Their Better Halves (Ex, Current, and Rumored)
Kostya V.
August 29th, 2015
1.
Zedd and Selena Gomez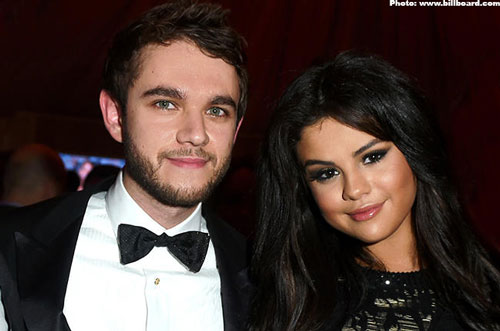 Selena Gomez: "Finally answering everyone's burning question, she added: "I adore Anton [Zedd] a lot and I definitely had a thing with him, which was nice." [Source]
2.
Calvin Harris and Taylor Swift

At the end of Taylor's show on Monday night, the 25-year-old "Style" singer was seen mouthing "I love you" in front of the catwalk, where Calvin just so happened to be standing. [Source]
3.
Diplo and M.I.A.

Diplo dated British-Sri Lankan singer and rapper M.I.A. from 2003 to 2008 [Source]
4.
Diplo and Kathryn Lockhart

Diplo has two sons with Kathryn Lockhart: Lockett (2010) and Lazer (2014) [Source]
5.
Diplo and Katy Perry

Katy Perry and beau Diplo seen together for the first time in France… [Source]
6.
Afrojack and Paris Hilton

Afrojack and Paris Hilton dated for 6 months, while he was producing her second album [Source]
7.
Deadmau5 and Kat Von D

In September 2012, Von D began dating Canadian music producer Joel Zimmerman, known professionally as Deadmau5,[46] and gave him a star tattoo below his eye to match her own. They broke up in November 2012. However, on December 15, 2012, Zimmerman proposed to Von D over Twitter, and she accepted, becoming engaged to him. In June 2013, Von D announced that she and Zimmerman had ended their engagement. Von D cited Zimmerman's alleged infidelity as the reason. [Source]
8. 
Steve Aoki and Tiernan Cowling

Tiernan is an Australian model. The couple have been engaged since 2010. [Source]
9.
Avicii and Raquel Bettencourt

Avicii, real name Tim Berling, had been dating Canadian model Bettencourt, who runs the fashion and beauty website Raquel Natasha, for over a year and were living together in his Californian pad. [Source]
10.
Laidback Luke and Gina Turner

After a first marriage, he announced on the maiden voyage of Holy Ship! that he was engaged to Gina Turner and they married on October 1, 2012 at The View, Piermont, New York. Turner is also a DJ and one half of Nouveau Yorican, a musical side project with her husband Laidback Luke, and half of the DJ duo Staccato. She is also the head of Turn It Records. Talk about a match made in musical heaven! [Source]